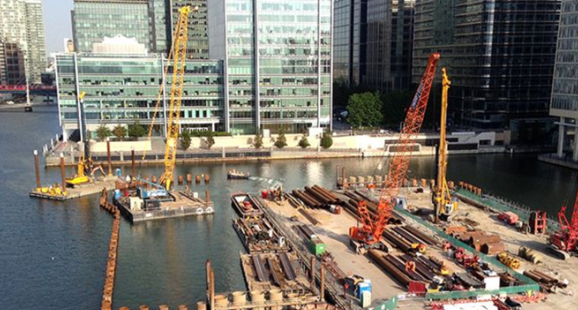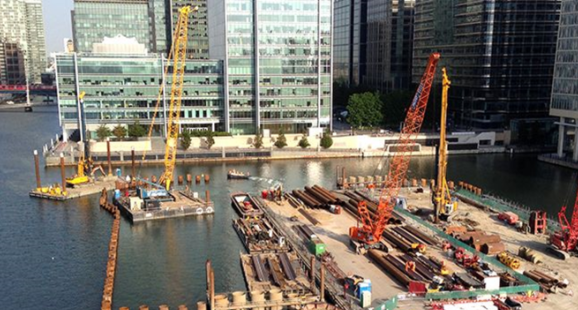 Ports, LNG terminals, and other marine facility projects involve careful maintenance and engineering and a comprehensive understanding of how to work in volatile environments during unstable tidal conditions. These projects require high-strength steel and high-performance marine coatings that can withstand high design loads and constant change in harsh, marine environments. Many facilities typically evolve into larger, more complex projects requiring steel products that support existing and future infrastructure expansionary upgrades. Edgen Murray has experience with high-strength steel and high-performance marine coating requirements and we welcome the opportunity to provide our services and products for project needs on any scale.

Used primarily for aviation purposes, jet fuel hydrant systems consist of a network of underground piping that transports fuel from tanks to aircraft while managing fuel intake. Edgen Murray specializes in sourcing and supply of mechanical and structural steel for the production of jet fuel distribution systems. We procure and carry certified steel products and components used for complete jet fuel hydrant systems. With project management expertise and a fabrication network to coordinate even the most complex materials packages, we specialize in large-volume jobs, managing staged deliveries, fabrication, and testing while assuring responsiveness for time-sensitive needs.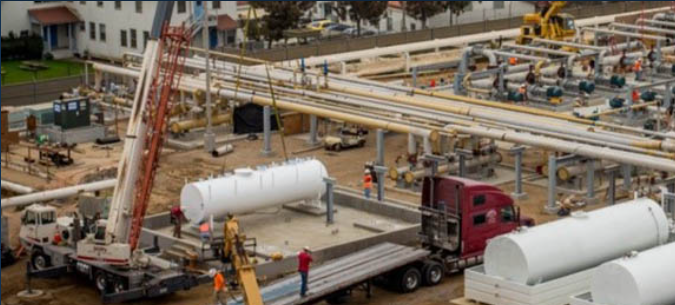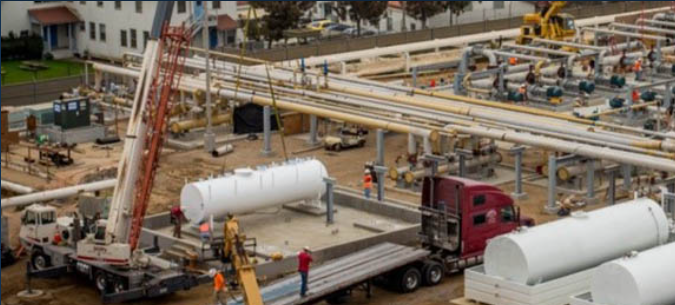 Waterways and Flood Protection
In the United States, most locks, dams, and levee systems are controlled by the U.S. Army Corps of Engineers. Many of these structures are approaching the end of their design life and need to be renovated to adhere to specific rules and regulations pertaining to safety standards and safe travel along inland waterways. Edgen Murray possesses the knowledge and capabilities to deliver the most complex structural steel products for necessary and ongoing renovations to our Nation's inland waterways and levee systems. For more than a decade, we have supplied specialized, pre-fabricated carbon steel pipe piles for many heavy civil projects, including the Olmsted Locks and Dam project in Olmsted, Illinois, and the vast rebuild of intercoastal waterways in Louisiana following the severe damage caused by Hurricane Katrina.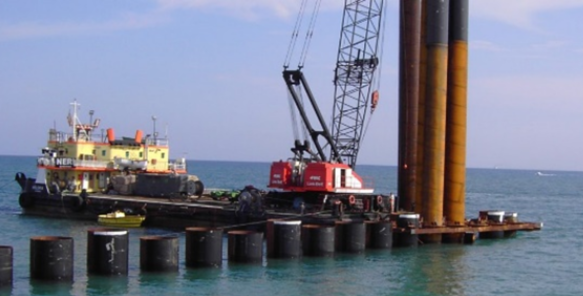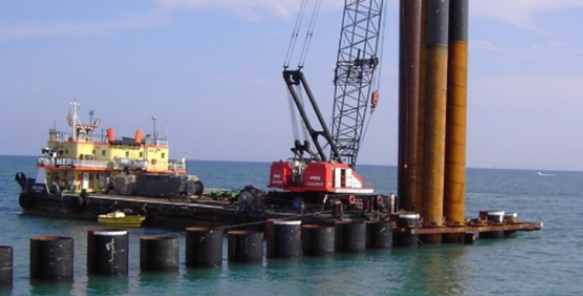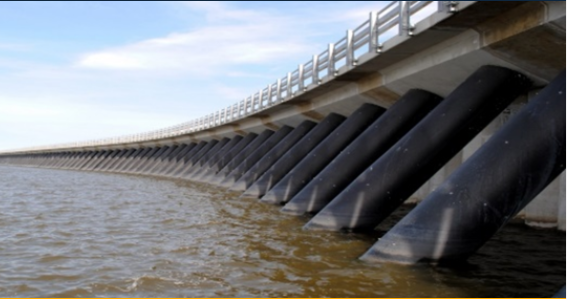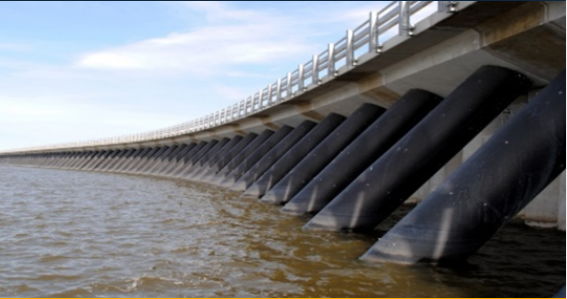 Above Ground Structural Steel and AESS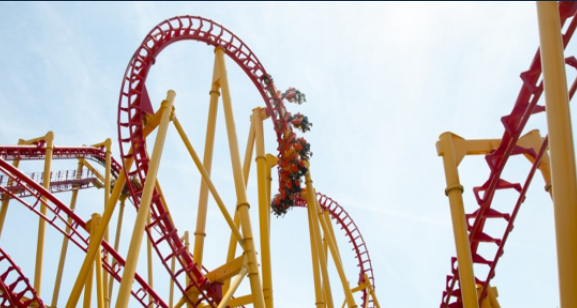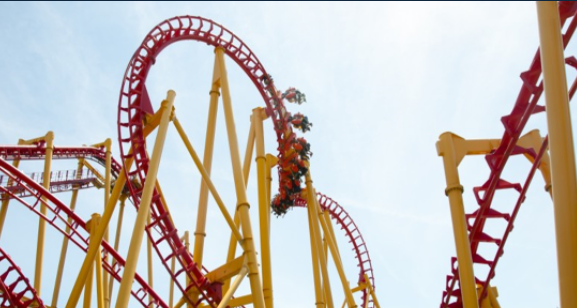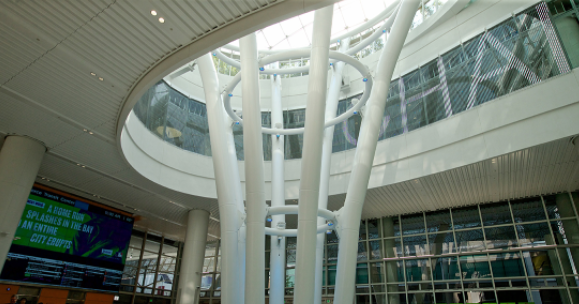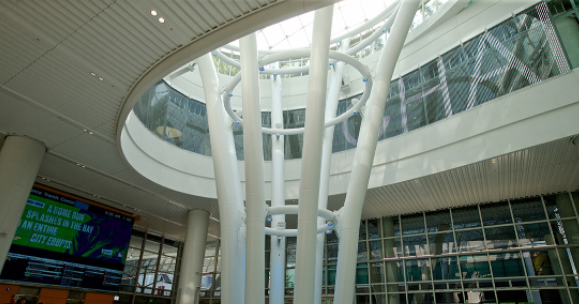 Appearances matter when designing and planning projects that require exposed structural steel. Architecturally exposed structural steel (AESS) is specifically designed to maintain structural integrity while being aesthetically pleasing to view. Edgen Murray has experience with AESS category (1, 2, 3, 4, and custom) requirements and a proven track record supplying structural steel for numerous projects, including, roller coasters, sign structures, stadiums, and pedestrian bridges. We offer precision, cut-to-length pieces to maximize effectiveness and work with premium fabricators and coaters to ensure that our customers receive the highest quality products.


Support of Excavation (SOE)
Excavation support systems are temporary earth retaining structures that allow the sides of the excavation to be cut vertical or near-vertical. They are used to minimize the excavation area, keep the sides of deep excavations stable, and ensure that movements will not cause damage to neighboring structures or to utilities in the surrounding ground. Through our established steel supply network,
Edgen Murray supports the complex design and construction of these shoring and support systems providing steel for project requirements such as subway stations, Tunnel Boring Machine (TBM) launch pits, service shafts, and urban high-rise deep excavation. We offer low cost, temporary steel products such as pipe struts, walers, and deck beams. Our ability to offer cut-to-length sections, custom fabrication of flange plates, and web stiffeners help eliminate costly field welding and saves time and money. We welcome the opportunity to provide our services and products for all SOE project needs on any scale.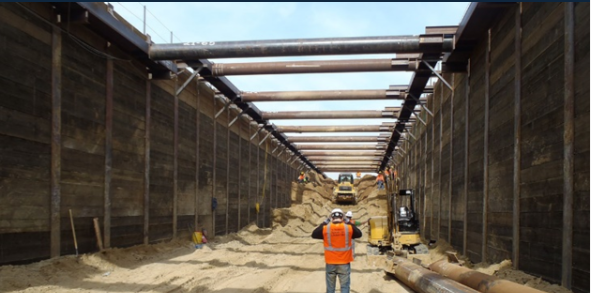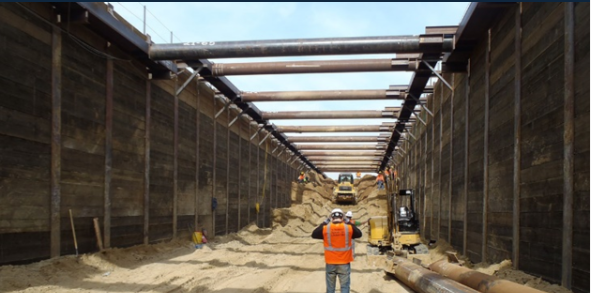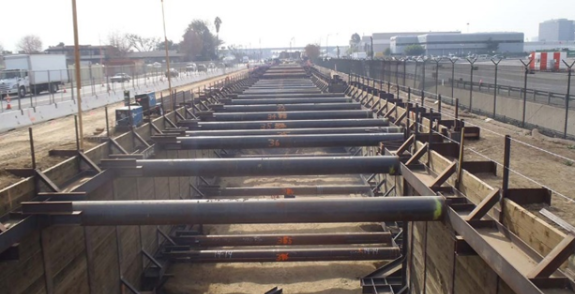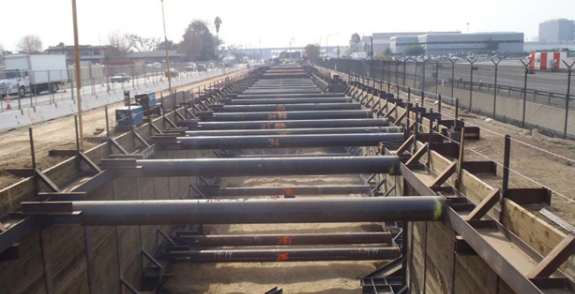 Public Transportation and Mass Transit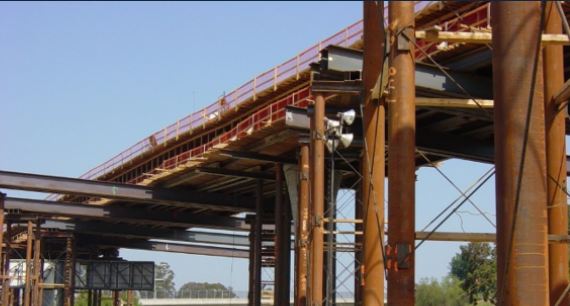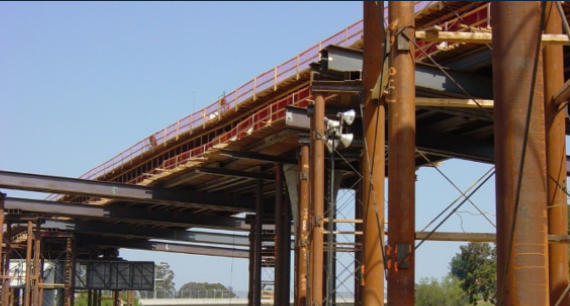 Public transportation infrastructure connects millions of people to homes and jobs via highways, bridges, railways, seaways, and roads. Existing infrastructure requires constant review, restoration and in some cases, replacement and total rebuild in order to meet the needs of our growing population.
At Edgen Murray, we work with the Department of Transportation to help fulfill the demand for new roads, bridges, and other key infrastructure projects. We provide a complete range of steel materials to support heavy infrastructure construction and deep foundation projects, including pipe piles, plate, and fabricated structures for bridges, roads, and railways. Edgen has partnerships with leading fabricators, builders and mill resources, and provide full project management support from materials inspection and testing to coordination of complex delivery schedules.